the most fun a girl can have

Let me just say...that I love my new camera.
And I love my friends and family for being so tolerant to a camera constantly in their faces. :-)
I am really excited about getting better at photography and everyone is being very encouraging...which I appreciate a lot.
I even got quite a few responses to the bulletin I posted on myspace asking for models! If you're interesting in getting your picture taken, you know who to call...
Friday night we had a bachelorette party for Cassie. The games were...interesting...and the food was phenomenal! Tati and Mailin did a good job putting everything together. Later that night we had "girls night" (plus Alex) at Lauren's house. We had a rousing game of Catch Phrase (my new FAVORITE game) and Turkey Bowling (that is correct...Turkey Bowling). If you want to know more about that read Lauren's Blog.
Saturday we watched Cassie and Carlos tie the knot. Sweet little ceremony. And then off to California Pizza Kitchen on Miracle Mile. Very good food. I suggest trying it out if you haven't. Alex and I headed up to South Beach after that...which is where we met this interesting character:


I bet you're jealous.
Today Anne Marie graced us with her cooking skills once again... Thanks Anne Marie! Pasta...salad...garlic bread... That girl is just too good to us.
A group of us from church went to downtown again to feed the homeless. My group this time consisted of Alex, Rey, Lauren, and Luis.
Luis, as it turns out, just got off the streets himself two months ago. Listening to him tell us about life being homeless was powerful. I couldn't believe this man's story. It's by the grace of God that he is now off the streets...but it's a daily struggle. He's been through a lot and he's still going through it. Hopefully his story will have an impact on others and give other homeless people some kind of hope to hold on to.
Oh, and if you didn't catch any of the Live Earth concerts, it was pretty sweet! When Bon Jovi hit the stage something inside me just couldn't be contained.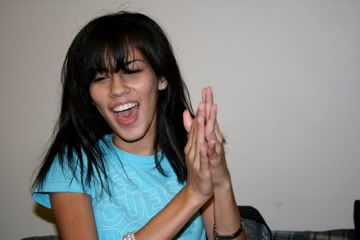 I was obviously a very happy girl.
It's my understanding that they're playing it on MSN. Check it out.